Super Bright Modular Flood Light
Newlamp introduces the Stadium Light for big indoor and outdoor sport arenas, or any other space that needs substantial and quality lighting. This industrial-grade LED lighting fixture provides exceptional light quality with zero warm-up time.
Send Inquiry
Chat Now
Product Details
LED Arena Flood Light
*IP65 -- This heat and impact resistant fixture is sealed and protected against water, dirt, oil, and tough weather conditions
*50,000+ Hours -- Built to endure, this fixture is estimated to last for over 20 years, at an average daily run-time of 3 hours. It is UV protect and the LED chip panel is cover by a non-yellowing polycarbonate lens
*Better Lighting -- Designed to be mounted on a pole or a wall. It emits no noise or RF interference. The LED panes provides enhances vision with minimal glare
*Operating Temperature -- Designed to withstand temperature between -4° and 104° F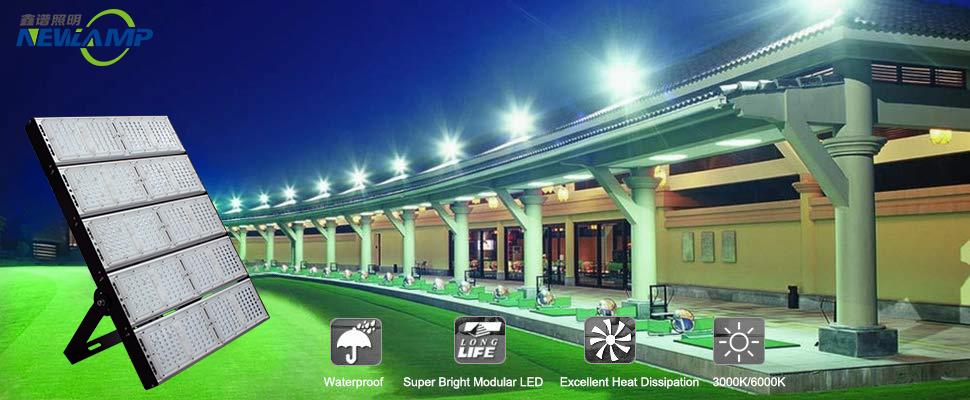 Product Detailed Descprition

Modular LED Flood Lights
The 480W light was assembled by 8PCS 60W lights!
Our pacakge include all accessories kits that you need to assemble and install ,enjoy DIY pleasure!
High Quality PC Mask+LED
High quality LED Chip:2835 LED Chip,bright and long life!
High transparent pc mask,high light transmission!
Daylight White(6000-6600K)!
IP65 Waterproof

Built with waterproof plugs,and waterproof housings,no need to worry about raining!
Fit for outdoor use!
Excellent Heat Dissipation
Built with thick aluminum shell: which gets large heat dissipation area and excellent heat dissipation effect.
To extend lamp bead's life!
How to wiring?

Yellow/green wire to ground wire
Brown wire to live/hot wire
Blue wire to neutral wire
Hot Tags: super bright modular flood light, made in China, manufacturers, quotation, customized, buy, discount, led bay lights, led high bay light with reflector, LED Tunnel Light 180W Free Sample, SMD surface downlight, ic driver led high bay, Plant Flood Light
Inquiry