Hot Selling IP65 300W UFO LED High Bay Light
Product details:
Advantages:
60W /100W/150W/200W/240W/300W
1. Die-casting AL shell
2.Meanwell Driver+ Lumileds 3030
3.Brightness: 120-130LM/W
5. Len's angle(Plastic Lens) : 60°/90°/120° (120° lens in clear flat)
6.With safety rope for each lamp.
7. Microwave sensor,Dimming, Dali control and functions available.
8. IP Rate: IP65
Send Inquiry
Chat Now
Product Details
High Bay LED Light UFO

Product Features:

1.LED high bay light has high light efficiency and long life. Adopting intelligent constant current control circuit, the performance is stable and the heat dissipation effect is good.
Ideal for light sources used in high-end product exhibitions. The appearance is novel and chic, high brightness, excellent light distribution curve, good heat dissipation characteristics, modular design.
2.The radiator uses new fins to dissipate aluminum and is specially oxidized. Excellent explosion-proof performance, can be safely used in a variety of flammable and explosive places.
3.Adopting imported chips and worrying LED package structure, it has the advantages of low light decay, high light efficiency, energy saving and environmental protection;
4.The key components of the power supply adopt the world brand (Taiwan Mingwei) to ensure the service life of the lamps;
5.Use high-quality reflectors for light distribution to meet the lighting needs of different occasions;
6.The transparent structure design optimizes the heat dissipation structure to ensure the life of the lamp;
7.The luminaire adopts an angle locking device to ensure that the long-term working angle does not change under the vibration environment;
8.The lamp body is made of light alloy material, special sealing and surface oxidation treatment to ensure the lamps are wet, high temperature, etc.Never corrode in harsh environments, never rust;
9.Energy saving: energy saving is over 70%;
10.Environmental protection: no lead, mercury and other pollution elements, more than 99% of the recoverable rate, is a true green light source;

Technical Parameters:
Lamp Power(w)

60W

100W

150W

200W

240W

300W

Model Number

XP-HB060B00

XP-HB100B00

XP-HB150B00

XP-HB200B00

XP-HB240B00

XP-HB300B00

Product Size(mm)

₵235*111mm

₵280*185mm

₵340*187mm

₵400*196mm

₵400*196mm

₵460*238mm

Luminous Efficiency(lm/w)

120-130LM/W

Color Temperature(CCT:K)

3000K/4000K/5000K/5700K/6500K

Input Voltage

AC90-305V

CRI:

80Ra

Power Factor:

> 0.95

Beam Angle:

60°,90°,120°

Driver Brand

MEANWELL / Domestic Brand for option

Light Source:

Lumileds 3030/ Bridgelux

Body And Shell Materials

Aviation aluminum

IP Rate

IP65

Temperature Storage:

-40~65℃

Working Life (h)

50000Hrs

Warranty

5 years

Certification

SAA,C-TICK,CE,RoHS
Dimension Drawing: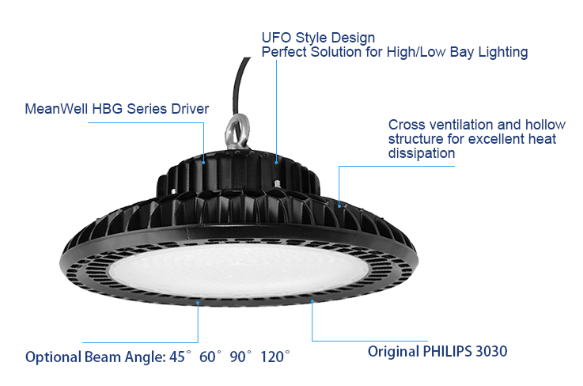 Structure Drawing: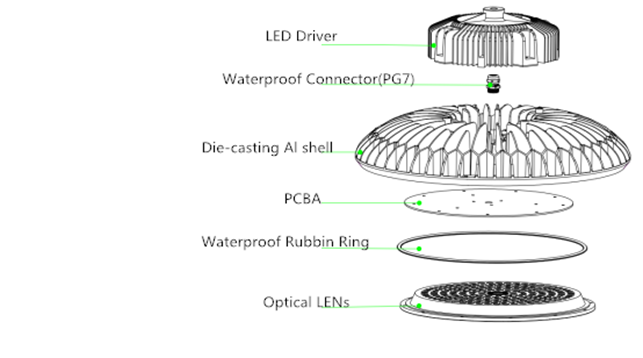 Beam Angle:
Distributor Curve:
| | | |
| --- | --- | --- |
| 60W UFO led High Bay | 100W UFO led High bay | 150W UFO led High Bay |
| 200W UFO led High Bay | 240W UFO led High Bay | 300W UFO led High Bay |


Application: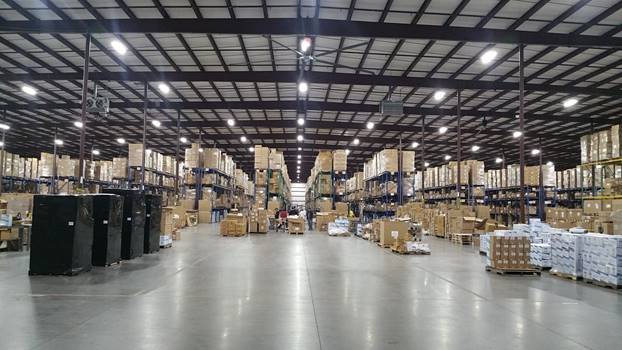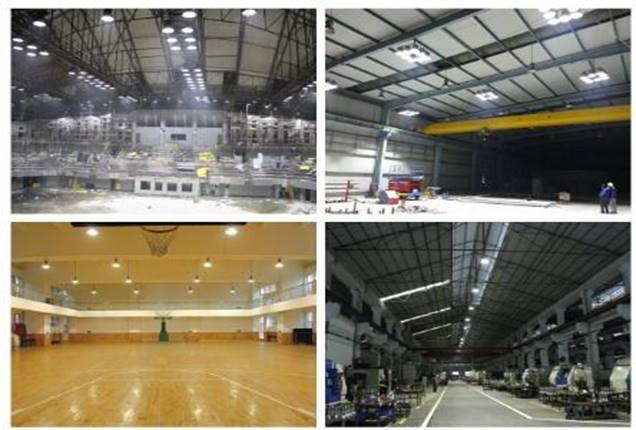 Widely used for Workshop, industrial warehouse lighting,factory ,gym lighting,shopping mall, garage ,exhibition hall and other Lighting purposes.


Installation :
versatile usage of 4 installation types:


Package:


| | | | | | | |
| --- | --- | --- | --- | --- | --- | --- |
| Power | 60W | 100W | 150W | 200W | 240W | 300W |
| Model No. | XP-HB060B00 | XP-HB100B00 | XP-HB150B00 | XP-HB200B00 | XP-HB240B00 | XP-HB300B00 |
| Productsize | ₵235*111mm | ₵280*185mm | ₵340*187mm | ₵400*196mm | ₵400*196mm | ₵460*238mm |
| N.Weight | | 3.13kg | 4.63kg | 6.315kg | 6.315kg | |
| G.Weight | | 3.67kg | 5.32kg | 7.37kg | 7.37kg | |
| Q'ty/CTN | 1pcs | 1pcs | 1pcs | 1pcs | 1pcs | 1pcs |
| Carton Size | 30x30x19cm | 34x34x21cm | 40x40x21cm | 47x45x22cm | 47x45x22cm | 53x53x26cm |


Container Loading:
| | | | | |
| --- | --- | --- | --- | --- |
| | Container | 100W | 150W | 200W |
| 20 GP: | 5919mm*2340mm*2380mm | 1350PCS | 970PCS | 688PCS |
| 40 GP: | 12045mm*2340mm*2380mm | 2700PCS | 1940PCS | 1376PCS |
FAQ
Q: Are you a factory?
A: Yes, we are. Our factory has more than 4 years of experience in manufacturing LED lights and we operate in more than 50 countries. We are a global supplier.
Our value information is: With us, your money will be safe and your business will be safe.
Q: Almost all high-lumen LED lights have the same appearance. How to judge the quality?
A: Price and appearance.
Due to the large difference in raw material costs, poor quality is poor casing, short casing and light weight. So the price is also very low. In addition, the outside of the driver is also low-end, IC, MOS and capacitor are very poor.
Q: Does the high lumen LED light really have a lifetime of 50,000 hours?
A: Lifetime of 50,000 or longer is just a theory of laboratory testing. The actual life is only <= 30,000 hours.
Q: Why do different suppliers have different brightness for the same power?
A: Please specify the brightness of the LEDs and the brightness of the lamps.


For example, a 50W LED floodlight, bridgelux 110-120lm / w LED, LED brightness will be 5500-6000lm. But LED floodlights will only be around 4100 lm.
Q: What is CRI?
A: CRI is a number that reflects the color of a real object. Higher CRI costs are higher. In general, LED floodlights and LED overheads, if they are made of epistar or bridgelux chips, CRI is around 70-75Ra. If this number is higher than 75, ask the supplier to send the test data.
Q: What is PF and efficiency?
A: PF and efficiency are the electrical properties of the feedback driver. Higher PF and efficiency, higher cost


Q: Is the shipping cost in our country cheap?
A: For small orders, express delivery will be the best. For bulk orders, the sea boat approach will be better, but it will take a lot of time. For urgent orders, we recommend air to the airport plus our ship partners to your door.
Hot Tags: hot selling ip65 300w ufo led high bay light, made in China, manufacturers, quotation, customized, buy, discount, IC Driver LED High Bay Light-Driverless, led shop lights, square downlights, SAA led track lights, SMD Chip LED flood light, good quality Eye Protection Table Lamp
Inquiry