100LM/W SMD Dimmable LED High Bay Lights with Lampshade
Product Appearance Dimensions : Product Dimension: Product Spec.: Incomparable Heat Sink Housing
Built-in power supply, various reflector for different beam angle.
Perfect Design, protection efficiently. Package:
Send Inquiry
Chat Now
Product Details
High Bay Light
Product Appearance Dimensions:



LED High Bay Light

Product Features:

1.High Power , High luminous efficient LED High Bay Light.
2.Waterproof IP65.
3.Die-casting heat sink ,integrated cooling housing ,lifetime can be up to 50,000 h, energy saving up to 80%.
4. 4mm tempered glass,safely protect the lighting source, and the transparent rate up to 93%.
5.Stainless steel screws and parts.Endurance the corrosion of air ,water,chemical acid,alkaline.salt and other materials .
6.With multiple adjustment points, the adjustment angle can be up to 216°.
7.The reflector is made of pure aluminium(99.8%) which anti-oxidation and unfading in colour ,ensuring the reflection.


Product Dimension:



Product Spec.:
Specification

Seris

B

LED Type

Lumileds 3030

PF

≥95℅

Beam Angle

30°、60°、90°、120°

Voltage

AC 85V-265V

CRI

≥80Ra

Work Temp.

-40℃~65℃

Luminous efficacy

>90lm/W

Certificate

Mean well

Warranty

5 Years

CCT

3000K/4000K/5000K/5700K/6500K

Model Number

Power

LED Q'ty

Package

XP-HB060B

60W

84PCS

255*255*335MM

XP-HB080B

80W

84PCS

255*255*335MM

XP-HB100B

100W

108PCS

255*255*390MM

XP-HB120B

120W

120PCS

255*255*390MM

XP-HB150B

150W

150PCS

255*255*430MM

XP-HB200B

200W

204PCS

385*385*435MM

XP-HB250B

250W

252PCS

385*385*435MM

XP-HB300B

300W

324PCS

385*385*435MM
Product Features

The heat problem of High power LED light have been perfectly solved. And can be replace traditional 600W to 1000W high power sodium lamps, and can energy-saving half.

'HDT, FIN buckle, slotting , pressure pipe', the patented production process , make the High-power LED high bay light are lighter, and easier to assemble, and the structure is more robuster and better thermal performance.
Modular assembly designed to support power diversification and variety.
Incomparable Heat Sink Housing
3-D heat dissipation
Professional heat dissipation structure design.Modular heatsink with perfect structure and inside airflow channels maxim the 3D heat dissipation


2. Built-In Power Supply, Various Reflector For Different Beam Angle.

Scales style reflector
With anodizing and plishing, high purity aluminum reflectors minimize the glazing as well as optimize the lighting performance. Multiple choices for reflectors: 60°,90°,110°,meet the requirement of professional light distribution and can be used at different places


Built-in power supply design
Integral interior power driver design is good at small size, which makes the whole lamp look more harmonious and beautiful .You can choose a suitable one according to your requirement.


3. Perfect Design, Protection Efficiently.
Modular Heatsink
By rich product range based on modular heatsink design with light weight and stable structure characteristics, using minimal weight to achieve maximum heat dissipation area for fastest cooling speed, fluence is leading the trend of led heatsink solution.

Tube or hook connector
Been treated with surface protection technology, it boasts outstanding high strength, good toughness , rust resistance, safe and reliable , easy to install and suitable for different venues.

Protection surface treatment
The whole structure has been treated with protection technology and undergone a 500-hour salt spray test , which boasts outstanding resistance to corrosion and rust and is thus adaptable to poor outdoor environment.


Closed design lampshade
Transparent PC lampshade with high transparency, fire resistant, anti-friction, oxidation resistance, equipped with silicone gaskets to prevent dust intrusion .
Applications

Led High Bay light is widely used in factory, warehouse,stadium,engineering ,square, golf courses, ships , logistical center, airports, subway, commercial facilities, outdoor advertising , landmarks, farmers market etc.


Kit Show

Efficient heat dissipation

Adopting modularization riveting technology and copper pipe heat dissipation body,
3D rapid cooling.

Easy Installation

Simple assembly enables easy routine maintenance.

Copper heatpipe

Rapid cooling, extend the life of the light source.

Professional Design

Fashionable radiator design,
Protected by a number of patented technology.

IP65 Waterproof IP65

Dust proof , waterproof

92% reflective rate

Greatly improve the brightness, energy saving.


Package: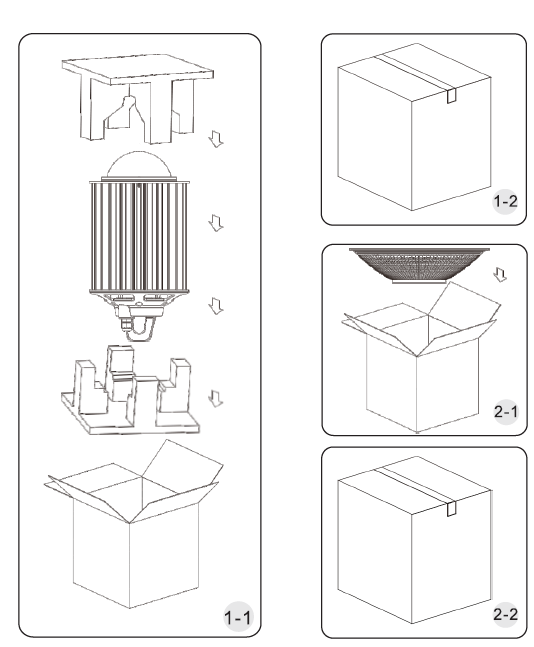 Power

Package

QTY/CTN

60W

255*255*335MM

1PCS

80W

255*255*335MM

1PCS

100W

255*255*390MM

1PCS

120W

255*255*390MM

1PCS

150W

255*255*430MM

1PCS

200W

385*385*435MM

1PCS

250W

385*385*435MM

1PCS

300W

385*385*435MM

1PCS
Inquiry